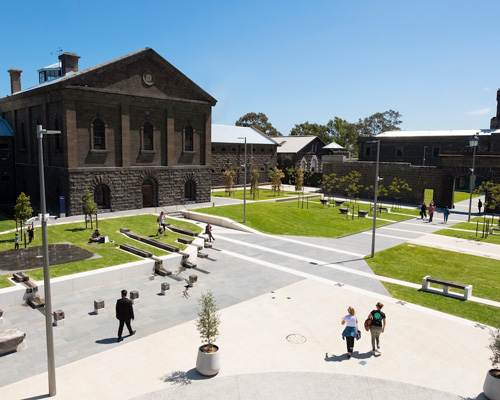 Once home to some of Australia's most notorious prisoners, the former Pentridge Prison in Coburg, Victoria, is currently undergoing a $1 billion transformation, reviving the heritage listed site into a destination and meeting place.
Stage 1 of the mixed-use redevelopment called Pentridge opened in November 2020, featuring a public piazza, a 2,000 sqm Ritchies Fine Food and Wine Merchants, a 15 theatrette Palace Cinema, specialty stores and secure underground car parks. A 4-star Adina Hotel, office towers and more than 1,000 residential units are planned for future stages of the site.
In May 2021, MRS Property were appointed the precinct's property managers.
"Pentridge is a combination of a tourist destination, shopping centre, residential development, hotel and pub," explains Phil Wotton, MRS's Head of Property Management.
"It is a very unique development, and there's nothing else like it."
Like many of MRS Property's other projects, the opportunity to provide property management services to Pentridge came about through personal relationships.
"Currently, we're predominantly providing property management services to the shopping centre and common areas," said Phil.
"However, this is expected to expand as more of the original bluestone buildings are activated and further development continues."
Given its history and significance to the state, the site poses a number of unique challenges relating to its management, including sensitivities around the site's history and its heritage listing.
"It's quite a unique challenge, trying to integrate a commercial development within a 170-year-old bluestone prison, while respecting the past.
"This involves a lot of stakeholder management," he said.
Pentridge is the most significant site being managed by MRS Property in Victoria, and has helped MRS Property cement its position as leading property managers in the Victorian market.
"As a boutique-style agency, we really take the time to understand our clients' needs, and build a personal relationship with them, so we can provide the level of experience and services that they need," said Phil.
In addition to Pentridge, MRS Property's Victorian Property Management team also manage the Harmony Investments industrial and commercial portfolio in the state, as well as a number of sites for Monash University.
MRS Property's highly qualified property management teams work in Adelaide, Melbourne and Brisbane, and offer a personal and proactive property and asset management service for retail, office, commercial and industrial buildings. Learn more about our Property Management service and how we could help you today.